Transform your bedroom into a peaceful sanctuary that promotes rest and relaxation by keeping it tidy and functional. As a stylish, hard-working gamer, my son needed a space that fit his current needs. That's why I've come up with ten genius tips that worked for me when revamping cluttered areas of his bedroom.
By implementing these tips, you too can achieve a more serene and functional space that promotes a peaceful and restful environment. Say goodbye to clutter and chaos and hello to a more organized and relaxing bedroom with these ten genius tips.
1. Use a Laundry Basket
Keep your bedroom floor clear with a chic laundry basket that fits your decor. Toss dirty clothes in immediately and use a laundry bag for easy carrying on wash day. Stay on top of laundry to prevent overflow and keep your room smelling fresh. This simple solution helps you maintain a tidy and clutter-free bedroom with ease.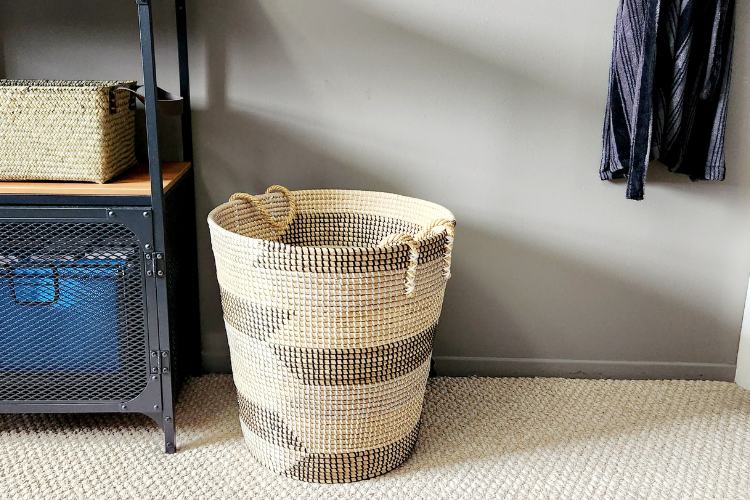 2. Install Hooks
Maximize space and keep your bedroom organized with hooks. Hang coats, hats, bags, and accessories on the wall to save space and prevent clutter from accumulating on the floor or furniture.
Choose from a variety of hook styles and materials that match your decor style, including wooden peg hooks and modern metal ones.
Regularly sort through the items on your hooks and get rid of things you no longer need or use to maintain a clutter-free space. Hooks are a stylish and practical addition to any bedroom, and they help keep everything in its place.
3. Use Baskets
Baskets are a stylish and practical way to keep your bedroom organized and clutter-free. Store clothing, books, or electronics in baskets to easily find what you need without creating a mess. Choose from a variety of sizes, colours, and materials to match your decor style.
If you have baskets in plain sight and you can easily see the contents without needing labels, then it's not necessary to label them. However, if you have multiple baskets that look similar or if you're storing items that are similar in nature (e.g., different types of socks), it may be helpful to label them to easily identify what's inside without having to open each basket. Labelling your baskets can also be helpful if you share your bedroom with a partner or roommate, as it can help them find what they need without having to ask you.
Regularly sort through your baskets and get rid of items you no longer use to prevent unnecessary clutter.
4. Maximize Vertical Space
Maximize vertical space in your bedroom to keep it organized and spacious. Use shelves to store books, and personal items, and display decor that matches your room's aesthetic. Be mindful not to overwhelm the space and regularly sort through stored items to prevent clutter.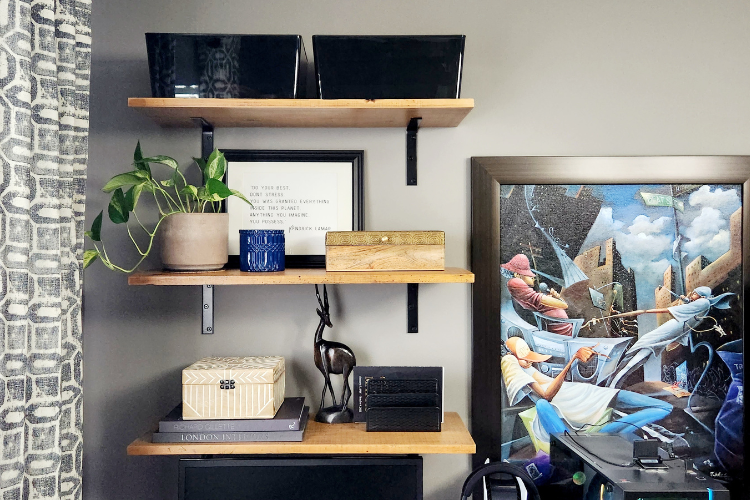 Stacking shoe boxes on shelves in the closet is an effective way to maximize vertical space. By doing so, you can create additional space between shelves and store more items in a smaller area. To make the most of this storage solution, consider investing in clear plastic shoe boxes. This will make it easier to see which shoes are inside each box, so you don't have to dig through multiple boxes to find the pair you want. You can also label the boxes to make it even easier to find the shoes you're looking for.
For sneakerheads who don't want to box themselves in, clear plastic shoe boxes with open fronts are a wise investment to keep your kicks organized without sacrificing style.
5. Use Underbed Storage Bins
Using under-bed storage bins is a great way to free up space in your bedroom and keep it tidy. The space under your bed is often overlooked and can be a valuable storage solution. Under-bed storage bins come in a variety of sizes and materials to suit your needs, and they can be easily pulled out when you need to access their contents.
There are many items that can be stored in under-bed storage bins. Shoes that are not used daily and don't fit in your closet can be stored in these bins, keeping them organized and out of sight. This is especially useful if you have a large shoe collection or limited closet space. Under-bed storage bins can also be used to store small travel bags, making them easily accessible when you need them.
Additionally, under-bed storage bins are perfect for storing seasonal clothing. Winter coats and sweaters, for example, can take up a lot of space in your closet during the warmer months. Storing them in under-bed storage bins frees up space in your closet and keeps them protected until they are needed again.
6. Use Drawer Dividers
Maximize your drawer space with drawer dividers to keep your clothing items organized and easy to find. Smaller items such as socks, underwear, or accessories can be especially difficult to sort through, but dividers can help keep them separated.
With various shapes, sizes, and materials available, you can choose dividers that fit your drawers and decor style. Adjustable dividers allow for flexibility and can be changed as needed. Plus, having organized drawers can help you make informed decisions about what to keep and what to purge from your wardrobe.
7. Declutter Surfaces
To keep your bedroom surfaces clean and organized, avoid displaying unnecessary items and put everything else away. Limit your display to only essential items such as a lamp, alarm clock, or phone charger, and store the rest in a drawer or closet. Streamlining the items on your surfaces creates a more visually appealing and organized space. Decorative storage solutions like trays can help keep small items in one place while adding a stylish touch to your decor.
Depending on your needs, items like cologne, perfume, and body lotion may be kept on surfaces if used regularly. By streamlining the items on your surfaces, you can create a more organized and visually pleasing space in your bedroom.
8. Use Multi-Functional Furniture
To make the most of your bedroom space, consider using multi-functional furniture that serves more than one purpose. A storage ottoman or bed with built-in drawers can provide seating and storage, while a storage cabinet can organize items like board games and paperwork, or even clothing.
Choose multi-functional furniture that complements your decor and provides adequate storage space for your belongings. With the right furniture, you can keep your bedroom organized and clutter-free while enjoying functional pieces that fit your lifestyle.
9. Use Slim Profile Hangers
Slim profile hangers are a great option for maximizing your closet space and creating more storage options for your clothes. These hangers take up less space than traditional hangers, allowing you to fit more items in your closet without worrying about overcrowding or damaging your clothing. However, it's important to remember that having more space doesn't mean you should accumulate more stuff.
To keep your bedroom organized and clutter-free, be intentional with your purchases and regularly declutter items you no longer use. Slim profile hangers can help you make the most of your closet space while still maintaining a minimalist and organized storage system.
10. Use Trays
Trays are a handy organizational tool that keeps your bedroom surfaces tidy and clutter-free. They can be used to store small items like jewelry, glasses, or remotes, making them easy to locate. Not only are trays functional, but they can also add a decorative touch to your bedroom decor.
You can choose from a variety of materials, colours, and styles to find one that matches your personal taste and complements your decor. By using trays, you can create a visually appealing and relaxing bedroom environment, free of clutter and chaos.
By following these ten simple tips, you can effortlessly keep your bedroom clean and organized. With a clutter-free space, you'll be able to relax and unwind in a peaceful environment that truly feels like your own.