Hey there, fellow foodies! Let me whisk you away to a recent adventure that filled my heart (and my belly) with pure joy. Picture this: a sun-soaked weekend, my husband and I were treated to a charming visit at our friend's home. It wasn't just any visit – it was a garden-fueled extravaganza! Our gracious host invited us to pluck the freshest veggies straight from the soil, a true farm-to-table experience.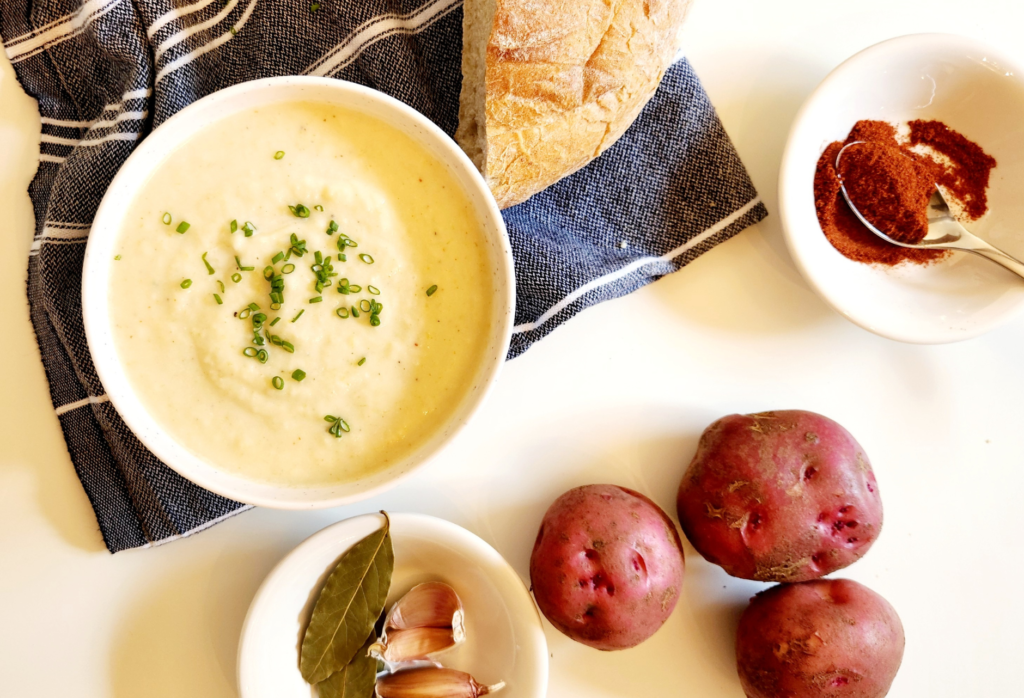 Straight from the earth, we harvested armfuls of vibrant red potatoes and fragrant leeks– a treasure trove of flavours waiting to be transformed into something extraordinary. Inspired by this bountiful harvest, a delicious idea sprouted in my mind. Once we returned home, I couldn't resist whipping up a steaming pot of red potato leek soup that would warm not just our bellies, but our hearts as well. And oh, did I mention the spicy twist? A dash of cayenne pepper, because why not add a little zing to life? And guess what? The magic of leftovers makes it even better!
Join me as I spill the beans (or should I say, potatoes?) on crafting this soul-soothing, flavour-packed delight that has become an instant favourite in our kitchen.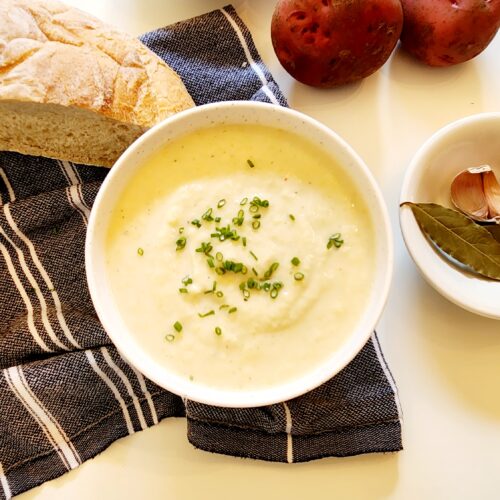 Red Potato Leek Soup
Experience the warmth of comfort with this easy and delicious hearty red potato leek soup, elevated by a delightful spicy twist.
Equipment
1 Dutch Pot or Large Soup Pot

1 Immersion Blender or Standard Blender
Ingredients
4

tbsp

butter, unsalted or salted

4

large leeks, white and pale green parts only, rinsed thoroughly and roughly chopped

3

garlic cloves minced

2

lbs

red potatoes, 6 medium-size

500

ml

concentrated chicken broth or vegetable broth

5

cups

water

2

bay leaves

3

sprigs thyme

salt and black pepper to taste

1

cup

heavy cream

1/2

tsp

cayenne pepper, adjust to taste

fresh chives, finely chopped for garnish, optional
Instructions
In a large pot, melt the butter over medium heat.

Add the sliced leeks and sauté until they become soft and translucent, about 5-7 minutes.

Stir in the minced garlic and cook for an additional 1-2 minutes until fragrant.

Toss in the bay leaves, thyme sprigs, and diced red potatoes, stirring to combine everything well.

Pour in the concentrated chicken broth (or vegetable broth) and water. Bring the mixture to a boil.

Reduce the heat to medium-low, cover the pot, and let the soup simmer for about 20-25 minutes, or until the potatoes are tender.

Remove and discard the bay leaves and thyme sprigs from the pot.

Using an immersion blender or a regular blender, carefully blend the soup until smooth and creamy.

Note: If using a regular blender, blend the soup in batches and be cautious with blending hot liquids to prevent splattering. Allow the soup to cool slightly before blending if using a regular blender.

Return the blended soup to the pot, if necessary, and place it over low heat.

Stir in the heavy cream, cayenne pepper, salt, and black pepper, adjusting the seasonings to your taste preferences.

Allow the soup to warm through, but avoid boiling it once the cream is added.

Serve the soup hot, garnished with finely chopped fresh chives if desired.
Notes
Refrigeration:
The soup can be kept in the refrigerator for 3-4 days
Freezing:
If you plan to freeze the soup, it's best to omit the heavy cream during the initial cooking. Add the heavy cream when you reheat the soup after thawing.
– Portion the soup into individual servings or a size that's suitable for your needs. 
– Label the containers or bags and add the date so you can keep track of freshness.
– The soup can be frozen for 2-3 months.
Thawing and Reheating:
To thaw the frozen soup, transfer it to the refrigerator and let it thaw overnight.
– Reheat the thawed soup on the stovetop over low to medium heat, stirring occasionally. Add the heavy cream and adjust seasonings as needed.
– Be cautious not to boil the soup vigorously once the cream is added to prevent curdling.
By following these guidelines, you can enjoy your red potato leek soup even after storing it in the refrigerator or freezer.